Basically all companies and organizations need to continuously transform to the better. There is for example nowadays an enormous need to adapt to the digital and virtual economy and ways of working.
We have been helping our customers in the implementation of new ways of working, since Greenlight was founded more than 17 years ago.
We believe that we have important advantages compared to many others thanks to our expertise in project, program, portfolio and PMO management, which we can combine with training, consulting, coaching and mentoring. With these strengths we are able to support the transformation of your organization in the most efficient way to achieve change with sustainable results.
Transforming / Changing organizations
Change is inevitable for any organization striving for success in today's business environment. The ability to adapt/innovate/ and reshape/invent the business is becoming the most important competitive advantage for any organization.
Projects are phenomenal vehicles for addressing change in an organization; your project portfolio is your most valuable "business sonar" identifying the needs for change, the nature of Projects and Programs and their intrinsic purpose to lead change and manage uncertainty makes it the most powerful way of driving a change initiative as a single project or under a program.
GreenlightPM has over the years led successful operative and strategic change initiatives for numerous customers from different industries by:
Understanding the organizational and human aspect of change and how to reach sustainable result.
Combining best practices from Lean/Agile methods to quickly and efficiently get real impact.
Applying and well proven change project management model to organize and manage the work to be done.
Managing & Leading Change
Every business transformation is different. The success depends on the (often complex) interaction between stakeholders, processes and tools in a sometimes multifaceted environment. To enable change to happen and have lasting results, the provisioning of a framework, that helps to manage the complexity of business transformations, is paramount to have in place to succeed.
GreenlightPM use agile, project-, program- and project portfolio management as our key ingredients to provide such a framework. We call the framework "Project Management 3.0".
We appreciate and respect the challenges of running programs and projects from a process, as well as, from the human perspective.
Let us help you on your journey to change and continuous improvement!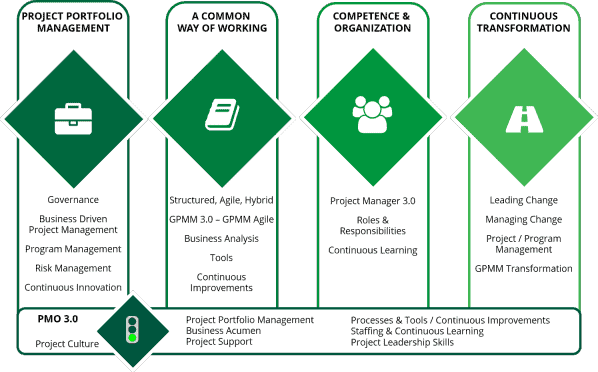 We support our customer in transforming the way they develop new products with special emphasis on lean and agile methodologies. Agile methods has traditionally been seen as a way to implement the Lean way of thinking in software development work. The application of Agile methods has in recent years expanded from its origins in software development, into many new areas, change management among others and also into many different industry sectors. With our knowledge and practical experience implementing and improving Agile methodologies with our customers we can help you in the following areas.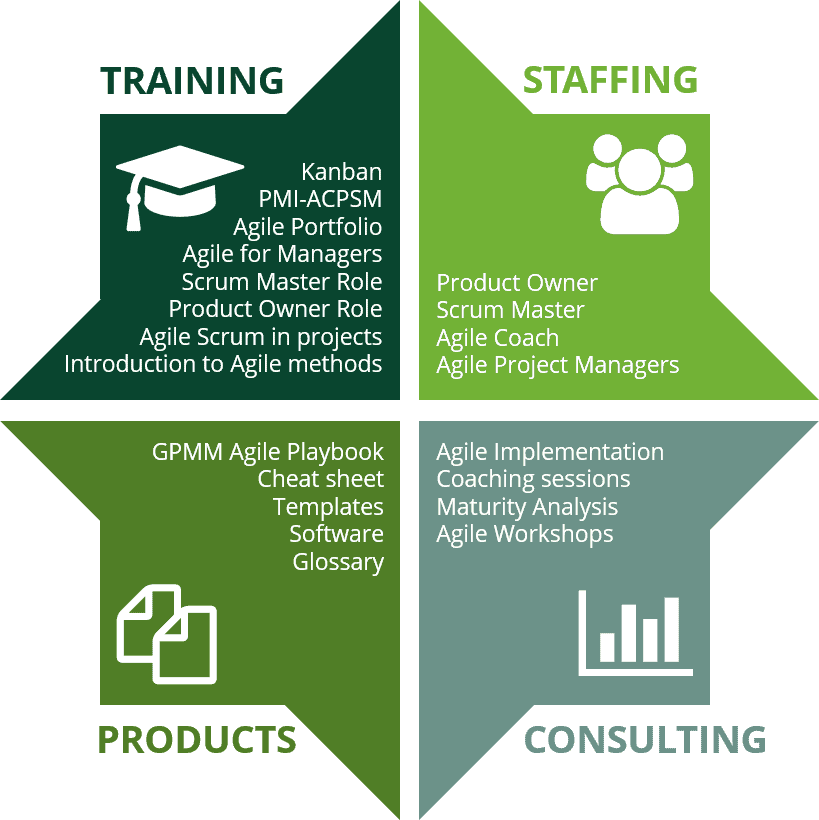 Change Management Consulting
Some of today's challenges for organizations are:
"We need to accelerate the launch of new solutions to our customers"
"New competitors/players enter into our market, with new ways of working and new business models. We need to understand the competition and enable ourselves to move quickly in innovative ways"
"Our budgets are reduced, but still we need to win more business"
"New technologies boost new channels, customer interactions and ways of doing business"
To meet these type of challenges and to stay competitive, business developers, account managers, product managers, directors and leaders, need to adopt to and introduce new concepts, ways of thinking, processes, tools and ways of working. From GreenlightPM we offer our experienced consultants to help you with your Business and Value Driven activities in your organization.