We help our clients achieve outstanding business results
by providing innovative solutions.
For more than two decades we have been contributing to improving our customers' business, by implementing better Project Management.
The most common Consulting Services we provide are:
Maturity Analysis
Project Culture Maturity Analysis
Leading / Managing Change
Project Portfolio Management – Governance
Project Management Office (PMO)
Project Management Processes
Process Adherence Audits
Project Assessments
Mentoring – Coaching
LEAN Agile – SCRUM, Kanban etc.
Risk Management
Business Driven Project Management – Innovation, LEAN Start-Up, Business Modelling
Demand, Requirement, Scope and Configuration Management
Business Analysis – BABOK®
Recruitment
Read more about our proposal for the Project Management 3.0
A unique solution
Working together with our Customers, we help them to identify and implement the necessary methods, processes and tools with a goal to improve and achieve a Business Driven Project Culture.
We typically start with a project culture maturity analysis and in continuation implement the identified and customized improvements, derived from our Project Management 3.0 Framework and GPMM 3.0 Model.
Those services are often implemented with consultants working on site or remotely, at full time or part time, sometimes as a service we call "Your PMO in the Cloud".
A Business Driven Project Culture
Business Driven Project Management
Value Creation and Benefits Generation
A common way of working (models & tools)
Clear Roles and Responsibilities
Leadership and Employee Motivation
Continuous Learning - The Right Competence
We can help you analyze your project culture maturity level with a web-poll, interviews and a workshop. Please feel free to contact us for more information on how we can help you improve your project culture.
Project managers
A good project manager increases the likelihood a project
will be successful and profitable.
Well managed projects increase profits and grow business
Whether you need a specific competence or profile or simply have a workload peak, GreenlightPM can provide you with talented Project Managers with strategic, business management, technical and leadership skills.
How does GreenlightPM add value in the process of providing Project Managers?
We are specialized in Project Management, ensuring best end-to-end service from candidates' selection till project/program end. Our Project Managers add value through:
High education, experience & knowledge
Use of the world-leading model GPMM® (based on PROPS®)
Certifications – PMP®, SCRUM Masters, PMI-ACP®, Prince2, PMD Pro etc.
Leadership, communication and negotiation skills
Support, mentoring and coaching provided
Business Acumen – Business Skills
Experience in the main PPM tools
Consulting and trainer skills
Apart from providing a project management service delivered by competent professionals, our Project Managers and Consultants receive continuous competence development and support from GreenlightPM to fulfill their assignments successfully.
We offer recruitment and selection of candidates according to the customer's needs (experience level 1-2-3), with a lot flexibility and agility in our assignments.
Project Support
Project Support personnel are needed in many projects. Within the different support functions, GreenlightPM focus on Quality Coordinators and Configuration Managers.
What does a Quality Coordinator do?
The primary function of a Quality Coordinator is to help the Project Manager achieve better project performance (follow-up and analysis of the KPIs) and to ensure the correct use and continuous improvement of processes.
What does a Configuration Manager do?
Configuration Management is a discipline that applies to the technical and administrative management of development, production and support throughout a product life-cycle. The primary objective is to document and make visible the current configuration of the product and the degree of fulfillment of its functional objectives. The Configuration Manager secures the fulfillment of this discipline throughout the project life-cycle.
Aligning projects with business strategy
As Project Management becomes more important, most organizations tend to establish Project Management excellence centers – so called PMOs. A PMO is traditionally the organizational unit and vehicle for the coordination, standardization and management of these practices.
At GreenlightPM we go one step further! – We believe the PMO should drive the whole organization towards a common and efficient Project Culture!
We offer various services related to PMOs.
We can:
Establish and/or improve your PMO.
Manage your PMO as an outsourcing service; either for an indefinite period of time or with the purpose to hand it over to you when you feel ready to in-source the PMO using your own people.
Support your PMO in various aspects with mentoring, coaching, training, audits, assessments, etc.
Apply a mixed approach, managing part of your PMO functions on site and part of them remotely. This type of service is what we call "Your PMO in the Cloud"!
All of our services are also available as a combined PMO and SMO (Service Management Office), in line with the trend that a PMO could also cover Service Management activities.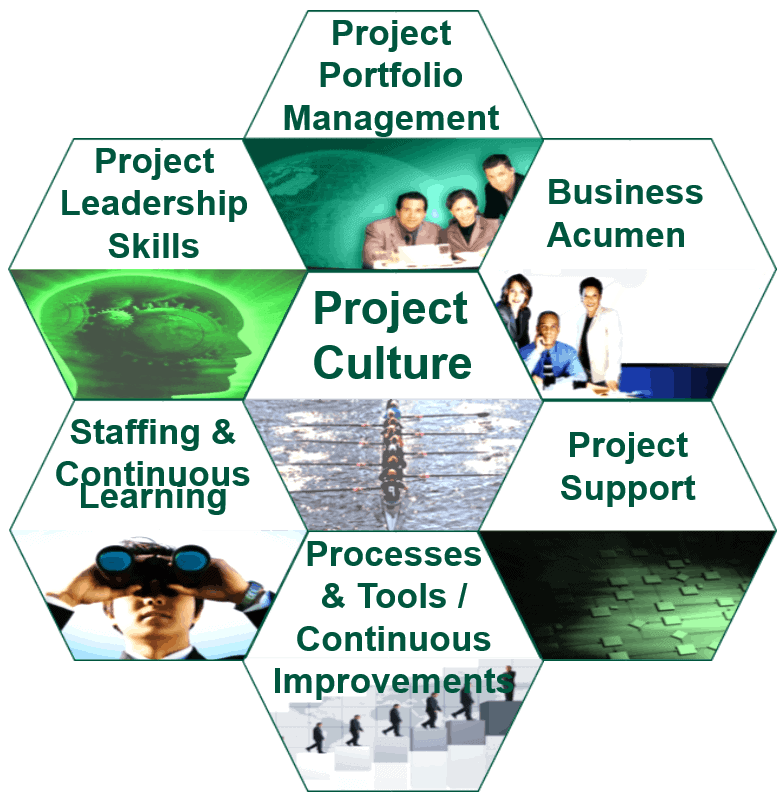 We use our 7 area PMO Model to define the functions and responsibilities of the PMO. The areas are:
Project Portfolio Management – Ensure that the chosen projects and programs are the ones which are aligned with the company's business strategy and goals.
Business Acumen – Ensure that the organization has business acumen behavior at project- and portfolio level.
Project support – Ensure that projects and programs receive the necessary support.
Processes & Tools / Continuous Improvement – Ensure that the cross-functional processes are adequate and up-to-date to facilitate optimal project management.
Staffing & Continuous Learning – Ensure that Project Managers and Project Management teams are the adequate ones and that they have the competence needed.
Project Leadership Skills – Ensure that the best possible leadership and human skills aspect are considered and well-managed in the projects.
Project Culture – Ensure that the whole organization works towards a good, efficient and common project culture.
Each area covers 10-15 activities, which are divided into 3 levels; Basic, Intermediate and Advanced, which we implement, step by step together with the customer, as the PMO matures.
Risk Management on Project, Program and Portfolio Level
We live in an everyday more dynamic and uncertain world. So if your organization is initiating an important project, the best risk management should be considered.
Because one of the most important factors for ensuring successful projects is the ability to manage risks.
The purpose of risk management is to identify potential problems before they occur so that risk-handling activities are planned and executed, mitigate or avoid adverse impacts on achieving objectives.
GreenlightPM can help your organization implementing better risk management in a Project, a Program, a Portfolio and on Enterprise level.
A partly outsourced and tailored PMO solution
The "Your PMO in the Cloud" service is focused on supporting and helping your PMO with specific activities, which can be performed on site and/or remotely. We support you with:
Project Management
Project Portfolio Management tasks
Competence Development – Training
Mentoring and Coaching
Continuous improvement by enhancing processes, tools, models and methodologies
Project administration, Support and Control
Project Audits
Configuration Management
Project Assessment and Recovery
The services are based on our 7 areas PMO Model, and can be delivered remotely and when needed partially on-site.
Our approach
GreenlightPM can support you from our GPM-OC (Greenlight Project Management – Operation Center), using:
Our very experienced and competent consultants and trainers.
"Your PMO in the Cloud" Web portal.
The internet version of GPMM® – Greenlight Project Management Model.
GreenlightPM Learning Platform – Based on Promote®.
Various Project Management Tools, in line with what the customer is using; PPO, Clarity, Primavera, HP PPM, MS Project Microsoft EPM, Talaia, etc.
A wide range of communication tools such as email, telephone, IP telephony (Skype etc) and video-conferencing (HD-video, Webex, MS Lync etc).
Internet based questionnaires to do surveys and analyses.